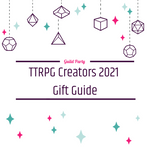 TTRPG Creators Gift Guide
It's that time of year again! And this year is a little different than past years. Because of both supply chain issues and shipping delays, holiday shopping is happening sooner than normal. Also, this year I really wanted to highlight my fellow creators and small businesses. I created different categories below to better find what you're looking for. 




Dice
One of my favorite gifts for people who love TTRPGs is dice. Not only because there's so many options for color and style, but also because the quality form makers is top notch. Here are some of my favorite dice creators:

1. Darkmoon Dice - Not only do Darkmoon Dice specialize in beautiful handmade resin sets, they've also been experimenting with unique styles that have a decorative core inside each dice. I especially love that there are some Christmas ones just in time for the holiday. They will be having a shop update on the 26th, so be ready to grab your favorite set!
 
2. Everything Dice - Specializing in sharp edge dice, Everything Dice offers a variety of dice options. From opaque, to beautiful resin swirls and metallic flake, to even hand painted sets, there's sure to be something for everyone. The best part is, most of these sets are available to purchase right away!
 
3. Spellcaster Dice - Spellcaster Dice is another maker uses decorative cores in their work, but with a completely different feel. They offer resin dice, and I especially love the 6 sided dice that feature the Star Pips. They've also been experimenting with liquid core dice which are absolutely beautiful when in motion. While their next sale isn't listed yet, there are plans to do one more shop update, so follow their Instagram for details!
4. Yaniir Dice - Yaniir Dice has been one of my favorite creators for quite some time. Not only does she make beautiful sharp edge dice, but she also makes some uniquely beautiful dice jewelry. She's also been experimenting with a tinsel like glitter in her latest dice, which I think look absolutely stunning. Her next shop update is Sunday the 28th.

Dice Accessories

This is for all the items that will compliment your hoard of dice. From bags, to dice, vaults, and even spell trackers, these makers have a little bit of everything:
5. 88 Riddles - 88 Riddles makes really unique dice vaults to hold your favorite set of dice. You can choose from a rectangular dice vault, a hex vault or a coffin shaped vault. Or if you're not content just holding one set of dice, a hero vault might be the perfect option for you. That I especially love about these dice vaults is the unique wood etching and painting on each one. I especially love the look of this Clan of the Owlbear hex dice chest.

6. Wayward Masquerade - If you're looking for a dice bag and also love cute dragons, then look no further than Wayward Masquerade. Not to be confused with a simple plush, these fleece dragons also double as dice bags that can hold up to 100 dice! They also offer great pride signs like this amazing Pan Dragon Bagon. Or if you're looking for a more traditional dragon aesthetic, this Red and Black Dragon Bagon looks especially great. I think this whole design is super clever and unique.

7. Staff and Branch - Staff and Branch combines wood and resin to create these beautiful dice boxes to hold your dice. Because they're handmade, each one is a work of art and the resin is super vibrant set against the wood grain. While currently sold out on etsy, they will be at PAX Unplugged, so if you have the opportunity, stop by and pick up one of these gorgeous pieces. Also, follow their instagram for when pieces become available.

8. Tray and Tested - Tray and tested is one of my favorite dice accessory creators. Not only do they make beautiful wooden dice trays with virtually any design you can think of, but they also offer these amazing dice tray bundles. They tray bundles some with a tray, a dice bag that matches the tray fabric, and an additional bags to keep everything together. It's extremely clever and would be a fantastic gift for someone. I just love the look of this Wizard tray Bundle and those colors are chef's kiss.




Clothing/Jewelry

This is my favorite category for obvious reasons. Each of these makers create great clothing options no matter your taste. You might even recognize a familiar face 💖:
1. Inkling - Not only is Inkling a great screen printer, and responsible for the Fighter Floral tees on this site, but they also make some great TTRPG themed shirts themselves. I love the way they combine nostalgia with great TTRPG based designs. For any of you 90s children out there, this Strahd design should look especially familiar and is one of my absolute favorites.
2. Guild Party - Oh hey! If you're looking for some really unique pieces (with big pockets!), then look no further than Guild Party. The Fighter collection features both the Longsword Dress and Shield Pullover in a variety of colors. My desire is to create pieces that not only look great, but also feel great to wear. Both are still up for preorder, so they won't arrive in time for the holidays. But if you're looking for something for that Fighter in your life, try one of our CLASSic Tees which we currently have in stock.

3. Arishae Creations - Arishae Creations creates beautiful chainmaille and scalemaille jewelry pieces. Each of the pieces is  handmade and look super unique. Whether you're going for a subtle piece like these Class Act Earrings or a bigger statement piece like this gorgeous Spiked Lace Necklace I think you can find something to love. 
4. Paola's Pixels - One of my favorite TTRPG creators out there, Paola's Pixels always has great pieces to choose from. She specializes in great pattern design, and you can find a variety of class options with her skirts, button ups, and leggings. New this year, you can get some fantastic embroidered beanies like this Ability Score Beanie. Or if you have a tiny gamer in your life, she offers some of her designs in kid's sizes. 

5. Gemmed Firefly - I was drawn to Gemmeo Firefly's clever and unique take on TTRPG shirts designs. I mean, who doesn't want a shirt with a sword that says "I will cut you"? I really like the designs that have distinct color stories or just beautiful linework. 

6. Tabletop Crafter - Tabletop Crafter has become a fast favorite because of the cute and unique fabric in all their designs. While they do offer traditional items like dice, it's their headbands, scrunchies, and dice bags (which could absolutely double as a clutch) that are especially lovely. I really like this rainbow moon bag and this adorable dragon scrunchie. Also, stay tuned for December, Tabletop Crafter will be featuring hundreds of TTRPG creators for their advent calendar, and it will be full of amazing giveaways, included one from Guild Party!




Candles

Candles are a great way to set the mood, especially when you're gaming. No matter what you're looking for, there's sure to be an option amongst these great candle makers: 

1. Mythologie Candles - While Mythologie Candles aren't exclusively tabletop related, they're perfect for those who love fantasy and the mythical. In addition to single candle scents, they also have entire collections of scent that are themed like this Yule Bundle. Not sure what to get? Grab one of their samples packs!
2. The Fabled Flames - What I like about the candles from The Fables Flame is that they come in the shape of a D20. Not only that, but you can pair your favorite color with a scent of your choice. And even include an actual D20! Or if you're not sure what scents to get, you can choose a candle bundle that includes a scent theme like the Adventurers 3-Pack.
3. Lorelight Candleworks - What I love about Lorelight Candleworks, is that the makers are the parents of Yaniir. So each candle's scent goes along with a dice set that Yaniir has created. I love that they compliment each other. In addition to their themed sample packs, you can roll the dice and get a completely random sample pack. I think this would be great if you don't know what kind of scents to get.

4. Cantrip Candles - I couldn't include TTRPG candles without mentioning one of my favorites Cantrip Candles! Each candle scent is meant to immerse yourself in a RPG setting while you game. Can I just say that Goldwheat Bakery is heavenly. They also have a new scent this year called Healing Potion that features a heart themed D4 inside. You can also grab some TTRPG themed gift tissue. If you're local to LA, visit their store and pick up some gifts!

TTRPG Accessories

This category is for everything else you might need or want to compliment your love of TTRPGs. From custom journals to fun enamel pins, and even glass etched designs there is sure to be a gift for the gamer in your life. 
5. Livelygold - Livelygold features some really unique TTRPG stickers and enamel pins. When looking at their items, they have a beautiful, dreamy quality to them. I especially love the way they combine florals into their designs. If you especially love the cottagecore aesthetic, along with gaming, then check out their Cottagecore Collection for some great pieces like this Sword and Shield sticker set

6. Works of Whimsy Studios - Works of Whimsy is a family owned shop featuring a variety of art pieces. Their laser cut pieces are especially lovely and they offer keychains, door frame art, and even large decorative D20s. I especially love how they combing the unique ink painting together with the clean look of the laser cutting like with these ornaments.

7. r-n-w - I featured r-n-w last year, and they continue to come out with wonderful products. They have a ton of new character journals this year along with various notepads for when you're playing. I especially love the look of their retro gaming designs. They also make these great one shot adventures that come with pintables you can use in the game. If your not sure what to get, check out their gift sets.

8. Tabletop Things - Tabletop Things specializes in fantastic looking tabletop tiles that you can use for your campaigns. From caverns, to dungeons, and even sewers, there's sure to be something you can use. They even make these amazing ships and docks for any sea based adventures. But the one thing I fell in love with was these amazing Bardic Inspiration Token Trackers. Made from each of the different bardic instruments, these are such a clever way to keep track of any inspiration you might get.

9. MC Etching - MC Etching creates beautiful etched glass designs. Whether you're looking for something to hold your drinks, or maybe hold your dice, there a variety of options to choose from. They also offer glass tokens that you can use in your game for buffs, counters, inspiration, etc. They come in a variety of colors, and would be great even as decoration.
10. The Rook & The Raven - If you're the note taker of your group, or maybe the DM, then look no further than The Rook and The Raven. The planners that they offer are no ordinary planners. Made to be fully customizable, you can choose your contents, cover art, and even what game system you're using. And if you fill all your pages, they're made so you can add refills later. If you don't want to fully customize the look of the planner, they also have ones ready to ship!

If you want more inspiration, check out last year's recommendations.