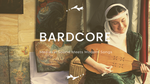 Bardcore: Medieval Sound Meets Modern Songs
So I feel like I've let you down! A new music craze happened this summer, and I only JUST NOW found out about it. It's Bardcore! Pretty much it's the perfect marriage of a "medieval" music sound mixed with modern songs. In case you're like me and aren't familiar with Bardcore, I put together a playlist of my favorites.
Hildegard von Blingin' Hildegard von Blingin' was my introduction into Bardcore, and I fell in love with this rendition of Lana del Rey's Summertime Sadness:
Kiss me once before thou goest
Summertide sorrow
I have loved thee the most
And shall love thee to my barrow
I also blame Hildegard for getting Gotye's Somebody that I Used to Know stuck in my head for a solid week:
Now and then I think of when we were together
Eros surely hit the apple of mine eye
I believed thou wert right for me,
but felt so lonely in thy company
But that was love and 'tis an ache I still remember
Algal the Bard Algal the Bard takes modern metal songs and gives them a medieval twist. And while most of his covers don't involve lyrics, you get to watch him play every instrument which is a feat in itself. Here's his version of Metallica's Nothing Else Matters:

And one of my favorites, System of a Down's Toxicity:
Mystic Zaru
If you're looking for some great medieval covers of 80's songs, look not further than Mystic Zaru. I love this take on Michael Jackson's Billie Jean:
Folk have always told me, "Be careful of thy will!
Don't go 'round breaking young maid's hearts."
And mother always told me, "Be careful with thy love,
Be careful what thou do"
As lie becometh truth."

And I could help but have a big smile on my face when I heard this rendition of Men at Work's Land Down Under:
Doth thou come from the lande of yonder?
Where Viking row and Saxon plunder?
Cans't thou hear, cans't thou hear the thunder?
Thou better run, thou better take cover
Samus Ordicus While we're talking about the 80's, Samus Ordicus did a fantastic take on Depeche Mode's Enjoy the Silence: 
All I ever longed for All I ever wished for Is here in my grasp
Beedle the Bardcore How about medieval rap covers? Beedle the Bardcore has you covered! Also, check out the comments when you can. People have come up with some great alternate lyrics.
This version of Notorious B.I.G.'s Big Poppa is definitely a bop:
A version of TLC's No Scrubs? Yes please!

ElectroKaplosion Lastly, I'll leave you with ElectroKaplosion's take on The Chainsmoker's Closer:

Milady take me hither on the saddle of thy steed
which thou hath not the coin for
Fasten brooch of ivory
Are you unlike me and have been jamming out to Bardcore for months now? Which song is your favorite?