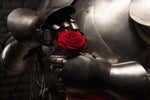 February Guild Party Update!
It's been a month, so I wanted to update you on the latest that's been happening behind the scenes. After I posted my last update, I got my first round of samples in. As I predicted, they needed a lot of work to get to the stage I want them at, but things are really looking good! Here's a video explaining all the steps that need to happen:
Additionally, I announced that I was also working on some shirt designs involving embroidery and digital printing. I not only offer some items at a lower price point, but I also wanted to round out the Fighter collection. Here's a peek at what those look like:
Like my sewn products, I need to make some adjustments on these, but I feel like everything is getting closer to reality!